Receive FREE Shipping when you spend over $75!
Now shipping to USA & Canada!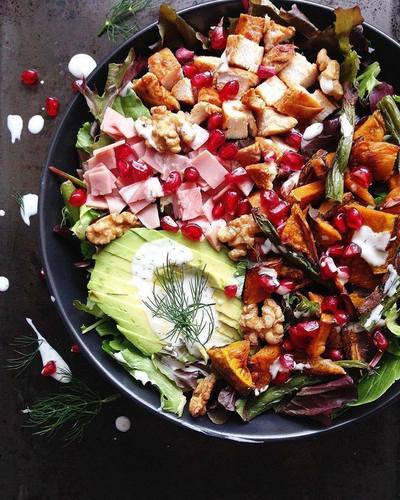 Beauty Boosting Balsamic Chicken Nourish Bowl
Description
Give your taste buds and insides a treat with this delicious nourish bowl. 
When the Liver is congested and Kidney essence is depleted, physical vibrancy naturally diminishes. Beauty Blend harnesses the toning, detoxifying and health-giving properties of the herbs goji, schisandra, and longan to promote inner and outer radiance. 
Ingredients
Core Ingredients
Other Ingredients
For The Chicken

1/2 tsp of Beauty Blend

1 chicken breast

2 tbsp of balsamic vinegar

Salt and Pepper to taste

For The Bowl

2 slices of smoked ham, sliced or diced

1/2 cup of pumpkin, sliced or diced - toss coconut oil or ghee + S&P roast @ 175'C/350'F for 15- 20 mins until caramelised and cooked to your liking.

1/2 an Avocado

1 -2 tbsp of Pomegranate arils (or dried cranberries )

2 tbsp of walnuts - lightly toasted - either in a dry fry pan on low heat or in the oven @ 175'C/350'F for 3-5 mins

2-3 cups of mixed greens

Salt and Pepper to taste

For The Dressing

1 cup coconut or Greek style yoghurt

1 tsp garlic powder

1/2 tsp dried dill

1 tbsp of freshly squeeze lemon juice (approx 1/3 of a medium sized lemon)

1 tsp of salt

1/2 tsp of freshly ground black pepper
Method
Step 1
For the Chicken: Place all ingredients into a small bowl and allow to marinate for 15-20 mins, cook by your preferred method (either in the oven for 10-15 mins until cooked through) or in a fry pan with coconut oil or ghee for 5-7 mins per side until cooked through.
Step 2
Allow to rest then slice/dice/shred.
Step 3
For the Dressing: Place all ingredients into a small bowl (or your blender) and stir/process until well combined.
Step 4
Note - Leftover dressing will keep well refrigerated for 5-7 days.
Next
#30DaysofJING Diary July 19-July 25
  July 19 The day I need JING the most I forget it! Last night, I stayed at my mom's because I had to be at the office earlier than usual on my in-person workday. I live an hour and...
Read more