Receive FREE Shipping when you spend over $75!
Now shipping to USA & Canada!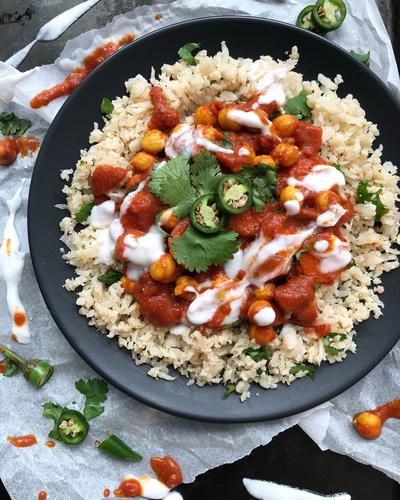 Chickpea Curry Feat. Mason's Mushrooms
Mason's Mushrooms is a super-blend of nourishing medicinal mushrooms hand-picked to support immunity, gut health, hormonal function and the nervous system. Revered in ancient herbal traditions, these potent adaptogenic herbs boost vitality and encourage longevity. This delicious curry will nurture and nourish your mind, body and soul.
Ingredients
Core Ingredients
Other Ingredients
1 onion, finely chopped

4 large carrots, chopped into 1/2 inch rounds

2 can diced tomatoes

2 can chickpeas/garbanzo beans, drained and rinsed

1 cup chicken stock (can substitute with vegetable stock if you prefer)

3 cloves garlic, minced

1/4 teaspoon ground nutmeg

1/2 teaspoon ground cinnamon

1 1/2 teaspoon cumin

1 teaspoon ground turmeric

1/4 teaspoon cayenne pepper (more if you like things spicy!)

3-4 cups of cauliflower, riced ( if you are unable to get pre-riced cauliflower it's easy to make your own – just grate up cauliflower either using a trusty old box grater or process in your food processor for a couple of seconds. You could also sub regular rice or quinoa if you prefer)

Coconut oil/ghee or cooking fat of choice

Salt and pepper to taste

1 Tablespoon hemp seeds - optional

A few Tablespoons of your favorite coconut or Greek style yoghurt (optional)

Freshly chopped parsley (optional)

Whole wheat Sourdough or a few slices of your fave bread (optional)
Method
Step 1
For the curry: Combine all ingredients in your slow cooker and cook on low for 6-8 hours or high 4-6 hours. Or you can sauté onions & garlic then simmer on the stove top for 20-30 minutes until the carrots are tender.
Step 2
For the rice: Place a fry pan over medium-high heat, add coconut oil (or cooking fat of choice) and cauliflower rice and cook for 3-5 minutes, stirring occasionally (do not over-stir or it will go mushy) until cooked through. Once your rice is cooked add salt and pepper and stir in your hemp seeds if using. Divide between your plates/bowls Serve your curry on a mountain of cauliflower rice with a dollop of coconut or Greek yoghurt and generous sprinkling of fresh parsley along with a few slices of your favorite bread.
Next
Damiana Infused Mushroom Cacao Chocolates
We were fortunate enough to be included in the Shanti Star recipe book Cacao Addict and couldn't be more honoured! This recipe is from their epic book and includes our full power Mason's Mushrooms. We hope you enjoy!
Read more