Receive FREE Shipping when you spend over $75!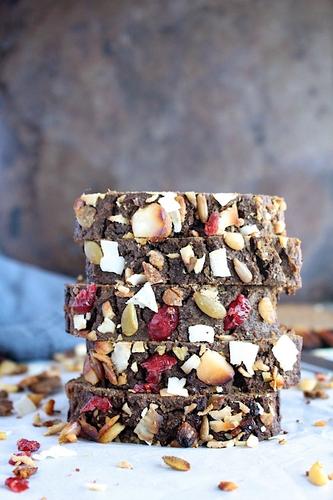 Chocolate Golden Spiced Banana Bread
Description
A great overall general health tonic, Mason's Mushrooms helps to support the health of the nervous system, hormonal function, energy production, immunity and gut health. Added to this delicious Banana Bread you will have yourself a power packed Breakfast.

P.s it's Gluten Free, Grain Free, Refined Sugar Free, Keto & Paleo Friendly.

Enjoy xo
Ingredients
Core Ingredients
Other Ingredients
2 over ripe bananas

3 eggs – vegan friends sub flax/chia egg or your fave egg placers

4 Tablespoons of cashew butter

1 teaspoon of vanilla

1 Tablespoon of honey or maple syrup

1/2 cup of coconut flour

2 Tablespoons of cacao

1 teaspoon of turmeric

1 teaspoon of cinnamon

1/4 teaspoon each of ginger, nutmeg, cardamom & cloves

1/2 teaspoon of baking powder

1/4 teaspoon baking soda

1 teaspoon of maca – for hormone balance (optional)

2 scoops of collagen (or hemp protein) – for extra protein and gut healing goodness (optional)

2 Tablespoon of cashews (For the topping)

2 Tablespoon of almonds (For the topping)

2 Tablespoon of macadamia nuts (For the topping)

2 Tablespoon of coconut flakes (For the topping)

2 Tablespoon of dried cranberries (For the topping)
Method
Step 1
Pre-heat oven to 175'C/350/F
Step 2
Grease/line a loaf pan and set aside.
Step 3
Place all ingredients (apart from the toppings) into a food processor or blender and process until smooth and well combined. You could also just mash/stir in a bowl if you prefer
Step 4
Pour into your prepared loaf pan
Step 5
Sprinkle with toppings
Step 6
Bake for 30-40 minutes until a tooth pick has just a few moist crumbs attached when inserted into the center.
Next
Men's Health: The Top Adaptogens For Men
We lay out a juicy summary on the lifestyle hacks, dietary and herbal gems to help ramp up your male game and get you feeling primal, lean, confident and kicking ass again.
Read more