Receive FREE Shipping when you spend over $75!
Now shipping to USA & Canada!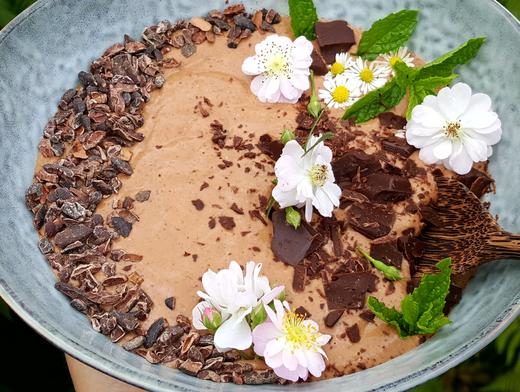 Mint Choc Chaga Smoothie Bowl
Description
Mint Choc Chaga Smoothie Bowl by Lorella Doherty
Image and recipe originally posted: https://lorelladohertywriter.wordpress.com/2018/02/26/mint-choc-chaga-smoothie-bowl/
Ingredients
Core Ingredients
Other Ingredients
2 tablespoon chia seeds

3/4 cup base (milk of choice, filtered water, coconut water, cooled herbal tea or a mixture)

1 frozen banana (just add some ice cubes with a banana if you have no frozen)

1 handful of cashews

1 D raw cocao powder

1 heaped teaspoon coconut oil

1 heaped teaspoon tahini

Small drizzle of maple syrup or raw honey

Pinch of sea salt

Pinch of cinnamon

3 drops of peppermint essential oil or a handful of fresh leaves
Method
Step 1
In your high speed blender, soak the chia seeds and base for approx. 5 mins. Then add the rest of your ingredients, mix til well blended – smooth as can be, and serve.
Step 2
Top with cocao nibs, edible flowers, mint leaves and some palm oil FREE (it's sneaky so make sure you read your labels) mint or dark chocolate. Food to me is beautiful and so I love taking the extra time to decorate with all the trimmings.
Next
Vanilla Hazelnut Almond Butter Feat. Tremella Mushroom (Recipe)
Subtly sweet, deliciously nutty, seriously, creamy, lightly salted, vanilla-spiked, hazelnut almond butter. All you need is a food processor.
Read more