FREE Standard Shipping on all orders, December 7th-18th! T's & C's Apply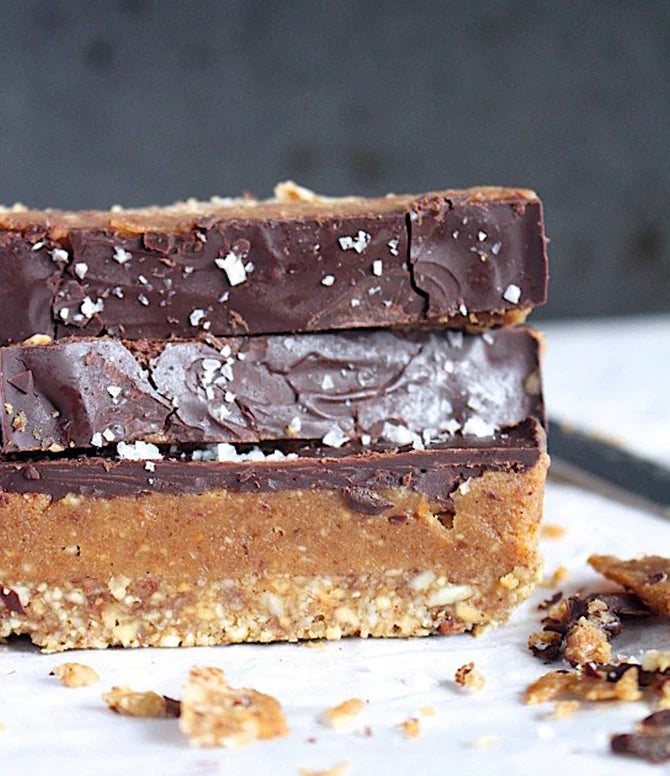 Raw Salted Caramel Slice
Date free, gluten free, dairy free, refined sugar free, low carb, vegan, keto AND, paleo..... wow.
Description
Reishi has been regarded by ancient herbalists as the 'mushroom of immortality', in the modern landscape herbalists love this herb for its powerful adaptogenic qualities. This recipe makes approximately 8 slices of subtly sweet, deliciously nutty, secretly healthy, seriously addicting salted caramel slice.
Note – this slice definitely needs to be kept refrigerated (I like to keep and eat mine straight from the freezer)  but will keep well refrigerated for 7-10 days, although I highly doubt it will last that long, and can be frozen for 3-6 months.
Ingredients
Core Ingredients
Other Ingredients
FOR THE BASE

1/4 cup raw almonds

1/4 cup raw cashews

1 tbs hemp seeds (optional)

1 tsp vanilla

1 tsp water

1 pinch cinnamon

1 pinch salt

FOR THE FILLING

1/2 cup almond butter

2 tbs of coconut butter/oil

1 tbs maple syrup

1 tbs vanilla

1/4 tsp of flaky sea salt (omit if using salted almond butter)

FOR THE TOPPING

1/4 cup of dark chocolate

1 tbs coconut oil (optional)

Flaky sea salt
Method
Step 1
Optional – lightly toast cashews and almonds – either on a lined baking tray at 175'C/350'F for 5-10 mins or just throw them into a dry fry-pan/skillet (make sure you toss them around occasionally so they don't catch and burn on one side) until lightly golden and deliciously fragrant.
Step 2
Place almonds and cashews into your food processor or blender and process until they break down into a fine, sandy looking crumb.
Step 3
Add hemp seeds, if using, along with your vanilla, water, cinnamon and salt and process again until a sticky "dough" forms.
Step 4
Press base mixture into a lined loaf pan then pop it into the freezer while you make your filling. Note – I have a little 13x8cm pan and it was the perfect size) – or, if you don't want to have to bother with cutting your slice you could just spoon it into little chocolate molds or even line a mini muffin tin with paper cupcake cakes – either will work just fine.
Step 5
Place all filling ingredients into your food processor / blender and process until deliciously creamy and well combined.
Step 6
Spoon / pour / spread caramel filling onto your base and pop it back into the freezer to set while you make you dark and delicious chocolate topping.
Step 7
Melt chocolate and coconut butter / oil by your preferred method – I like to do mine over the stove, double broiler style.
Step 8
Once your chocolate topping is melted, pour over salted caramel / base, sprinkle with sea salt and return the the freezer for 20-30 minutes to set.
Step 9
Slice – Devour – Enjoy xo
Featured in this recipe
Antioxidant Defences
Beauty & Radiance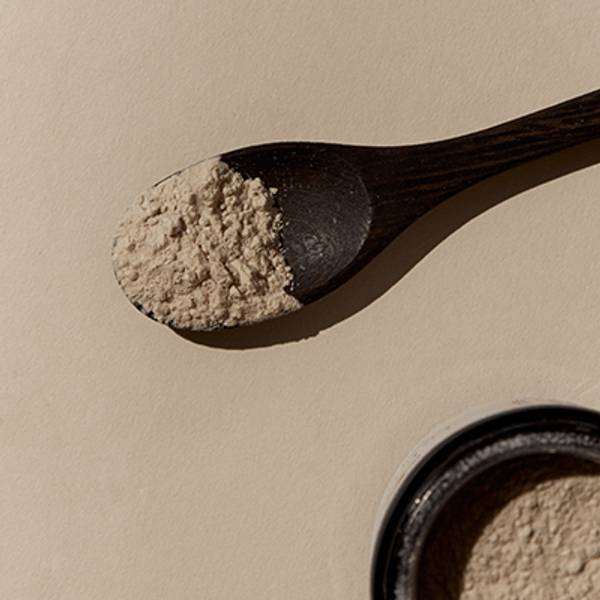 A Calm Mind / Nervous System
Deep Restorative Sleep Cycle
Digestive Health
Bestseller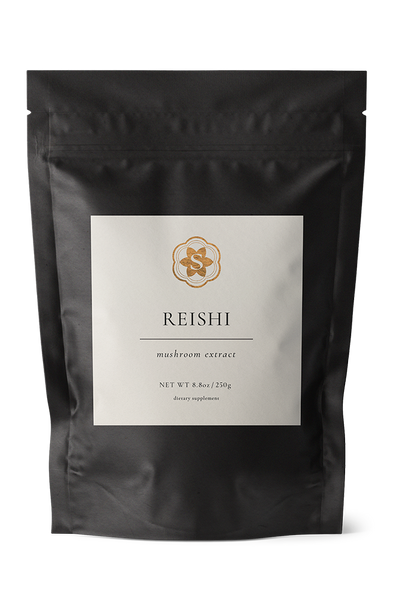 Next
Chocolate Honeycomb Chia Pudding
Dessert for breakfast anyone? Feel amazing knowing that you are loving yourself hard with this delicious pudding. Reishi works to tone all three treasures; Jing, Qi and Shen and supports the health and longevity of the cardiovascular system, immune system, nervous...
Read more