Receive FREE Shipping when you spend over $75!
Now shipping to USA & Canada!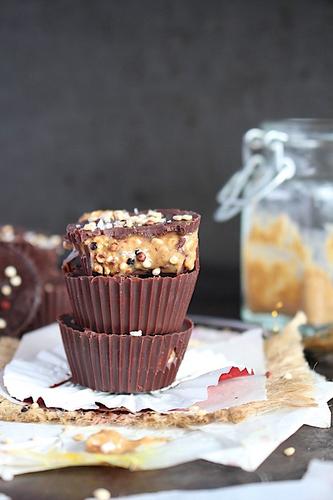 Salted Dark Chocolate Almond Butter Cups with Crispy Quinoa
Description
A great overall general health tonic, Mason's Mushrooms helps to support the health of the nervous system, hormonal function, energy production, immunity and gut health. These potent adaptogenic herbs are revered in the ancient herbal traditions for their ability to encourage vitality and lightness within the body.
This delicious recipe makes 12-14 Deliciously simple, seriously indulgent, decadent and rich, salted dark chocolate cups stuffed with creamy, dreamy, almond butter & crispy, crunchy popped quinoa.

and it's Sugar Free, Gluten Free, Dairy Free, Vegan, Keto & Paleo Friendly.
Ingredients
Core Ingredients
Other Ingredients
1/3 cup of almond butter (homemade or store-bought, it's all good)!

1/2 cup of good quality dark chocolate

2 Tablespoons of uncooked quinoa, rinsed.

Flaky sea salt

1-2 scoops of collagen – for protein and gut healing goodness (optional)
Method
Step 1
Melt chocolate by your preferred method. I like to do mine broiler style by placing my chocolate in a small bowl over a pot of simmering water. When your chocolate is almost melted, add your Mason's mushroom mix and stir to combine.
Step 2
Use a teaspoon to drizzle some melted chocolate into a chocolate mold (or can use mini paper or silicone cupcake/muffin cases if you prefer) and spread to coat evenly. Don't use all your chocolate, remember you want to save about 1/4 of it to spread on top once our chocolate cups are filled.
Step 3
Place your chocolate cups in the fridge or freezer to set.
Step 4
While your chocolate cups are setting, place your (rinsed) quinoa into a dry skillet/frying pan over medium heat – stir/toss/shake the pan frequently until they become fragrant (it should smell deliciously nutty) quinoa pops and if using white quinoa it will become slightly golden. It should take about 3-5 mins.
Step 5
Place almond butter & Tremella into a small bowl and stir through your toasted quinoa (and collagen if using) . Set aside.
Step 6
Remove your chocolate cups from the fridge or freezer, fill each chocolate cup with a spoonful of your quinoa studded almond butter, then use the back of your spoon carefully smooth out the top and firmly but gently press the filling down into the chocolate cups.
Step 7
Once all your cups are filled, top with a little extra chocolate, smooth it all the way to the edges so the filling is completely covered then sprinkle with salt and place them back into the fridge (or freezer) to set.
Step 8
These delicious little cups will keep well in the fridge for several weeks but can also be stored in the freezer for 3-6 months!
Next
Mindful Travel with Nina Karnikowski (EP#132)
Having worked as a travel writer for the past decade, Nina Karnikowski is now on her greatest adventure yet: making her and her readers' travels more conscious, and less harmful for the planet.
Read more