FREE Standard Shipping on all orders, December 7th-18th! T's & C's Apply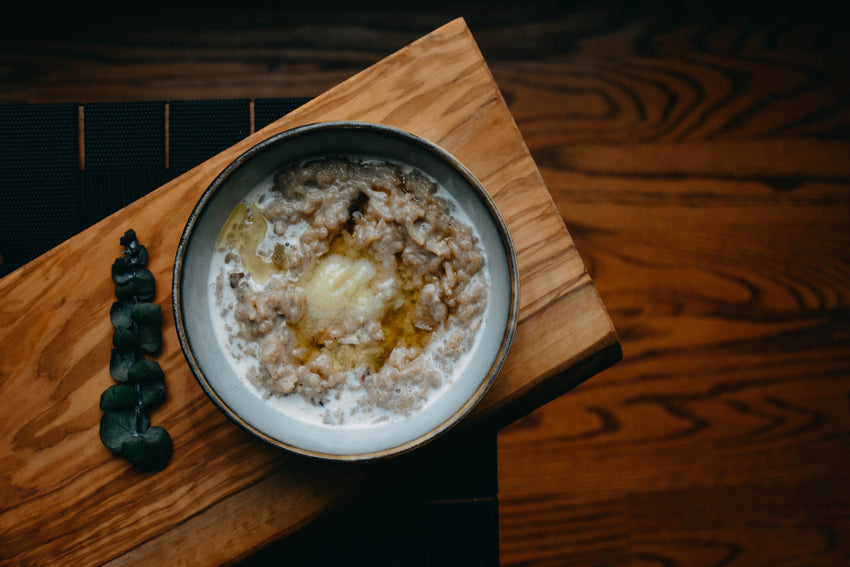 A warming and libido boosting congee (Recipe by Iris Surrland)
Description
It's deep winter here in the North Eastern States (United States), and the chill of the cold air has become a familiar feeling. The vibrant colors of fall have been replaced by a blanket of white snow and the skies are left gray and gloomy. Our bodies are starting to crave the sunshine and warmth of summer, a season that still feels far away. We're in the icy grip of winter and long for the days when we can feel the sun's rays on our skin. Until then, we must find ways to bring warmth and comfort into our lives.
This unique congee is a great way to start cold winter days, and the deer antler powder in this recipe make it a great libido booster too. To make this congee, gather the following ingredients.


Get connected with Iris Suurland, Founder and Creator of Nabalo:

Website
Ingredients
Core Ingredients
Other Ingredients
1 cup of rice

1 cup of water or If you want to boost the medicinal benefits of this congee even more, use a herbal infusion instead of water. I always have a medicinal brew going in our crockpot, for this recipe I used an infusion of astragalus, he shou wu and chaga. Another way to go would be bone broth instead of water or tea. 

1.5 cups of milk

1 tablespoons of goji berries

1 tbsp of ghee

2 tablespoons of honey

Cinnamon, nutmeg and cloves to taste
Method
Step 1
First, rinse the rice in cold water and add it to a pot. Add the water to the pot and bring to a boil. Reduce the heat to low and simmer for 15 minutes, stirring occasionally.
Step 2
Then add in the milk, the deer antler, goji berries and spices. Again simmer for 15 minutes, stirring occasionally. Make sure to keep an eye on the pot because milk easily boils over if it gets too hot.
Step 3
Finally, add the ghee and honey and let simmer for a few more minutes until the congee is thick and creamy.
Step 4
Serve warm and enjoy! Spring is coming closer every day. 
Next
SHEN Bedtime Drink (Recipe by Iris Surrland)
Did you know that your body needs fuel in order to sleep? It's essential to provide energy to your body in order to promote restorative processes, since lots of healing takes place during the night. For a good sleep I...
Read more