FREE Standard Shipping on all orders, December 7th-18th! T's & C's Apply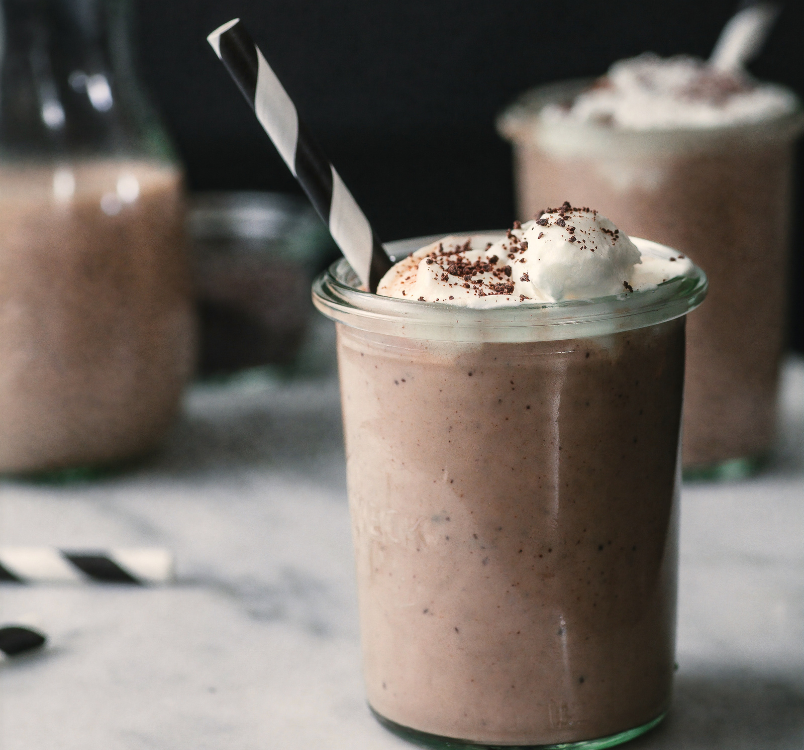 Dark Chocolate Mushie Delight Smoothie
Level:
Easy
Time:
5 mins
Serves:
1
This delicious recipe makes 1 nice tall, decadent, rich, delicious, nutritious, creamy, dreamy, berry infused, secretly healthy, seriously chocolatey smoothie
Description
Mason's Mushrooms is a super-blend of nourishing medicinal mushrooms hand-picked to support immunity, gut health, hormonal function and the nervous system. Revered in ancient herbal traditions, these potent adaptogenic herbs boost vitality and encourage longevity.
P.s Sugar-free, Dairy-free, Vegan, Keto and, Paleo-friendly, Channeling a Turkish delight ;)
Ingredients
Core Ingredients
Other Ingredients
1/4 cup of coconut yogurt

3/4 cup unsweetened vanilla almond milk (or plant milk of choice)

1/2 an overripe banana (preferably pre-frozen) – sub 1/2 cup of pre-steamed & frozen cauliflower/zucchini or 1/3 an avocado for keto

1/3 cup of frozen strawberries

1 tbsp cacao

1 tbsp almond butter (any other nut or seed butter works)

1/2 tsp vanilla

OPTIONAL ADD-INS

1/2 tsp instant espresso: for that extra kick

1 tsp maca: for hormone balance

1 scoop of Vital proteins unflavored: for an extra dose of protein

Collagen peptides: for gut healing goodness (vegan friends, omit or use pea or hemp protein)

1/4 - 1/2 cup of ice

Optional but recommended for serving

Cacao nibs

Coconut flakes

Pistachios, crushed

Edible rose petals
Method
Step 1
Place all smoothie ingredients into your and process until smooth, creamy and well combined.
Step 2
Pour into a chilled glass or mason jar then top with cacao nibs and coconut flakes if desired.
Next
Berry Refreshing Beauty Blitz
It's high summer here, and we've been keeping cool with this beautiful and very (berry) refreshing and beautifying summer frappe. It's a pretty simple mix of our fave summer fruits blitzed in a blender to create a refreshing beverage.
Read more